Cardiovascular disease kills 17 million people a year. Cancer 8.6 million. Respiratory Disease 3.7 million. Diabetes 990,000.
1 in 3 children born in the United States is expected to develop Type II Diabetes Mellitus.
1 in 3 people in North America is trying to lose weight. 2 out of 5 are on diets.
American unemployment is in double-digits.
My wife, Dr. Stacia D. Kelly, PhD, and I decided to embrace Usana Health Sciences as our way to help people and couples to meet their health and wellness goals.
Dr. Ray Strand, author of "Healthy for Life," cites a few key factors to a healthy lifestyle. Dr. Strand recommends moderate exercise, journaling food and activity, nutritional supplementation, and a low-glycemic diet.
Through Usana, we can help with the last two. Usana develops and manufactures high-quality nutritional supplements, healthy weight management products, and self-preserving personal care products.
We have had a chance to work with some great coaches like David Delevante, and meet professionals like Basketball Hall of Famer Jennifer Azzi, U.S. Speedskating coach Derek Parra, and Werner Berger, the oldest North American to summit Mt. Everest.
If you have health goals, or want additional information on the business, contact us at http://stacia.usana.com. The health assessment will guide you through recommendations on nutrition and lifestyle. The online presentation will give you some information on the unique position of Usana in the growing health and wellness industry.
We look forward to hearing how we can help.
"Love life and live it to its fullest in happiness and health." – Dr. Myron Wentz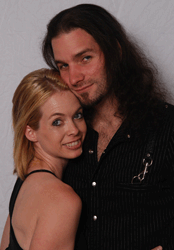 Dr. Stacia and Nick Kelly
Usana Health Sciences